One of my most *favorite* all time things is children's books. I vividly remember when the Scholastic book fair would come to our elementary school and my mom would give me money to buy a book. One year I bought Charlotte's Web and I was so excited it was mine I insisted on leaving it out on the top of my desk the rest of the school day so I could stare lovingly at it all afternoon. I'm a little obsessed. I love the story lines, the illustrations, everything about them. Well, do you remember when I posted that I bought a bookshelf from our local Border's store when it was going out of business? (still sad about that. TEAR.) Well, we finally got it painted to match Landon's nightstand (Behr Aquatic Green) and put into his room.

Joe installed some better lights along the top and I love how it turned out. Hopefully someday soon all three shelves will be full of books but for now the other two make a nice catch-all for stuffed animals, toys and my little Wal-Mart baskets with more toys.
In the corner I finally hung a frame my friend Jill got me for
Landon's monthly pictures
. I love it there in the little corner.
My favorite thing lately is buying holiday specific books and putting them in the display area on the top. I need to get more Thanksgiving books!
My other favorite books for kids are:
1. Anything Barenstein Bears. I like that they have a good moral message. I kind of want to be in the Bear family.
2. The Night Before... books by Natasha Wing. She has one for just about every holiday and season and I love the rhyming!
3. Cloudy With a Chance of Meatballs was one of my all time favorites as a kid.
4. The Cat in the Hat by Dr. Seuss. My sister and I both had it memorized as a kid. It was such a favorite of mine, my sister made Dr. Seuss the theme of my
baby shower
.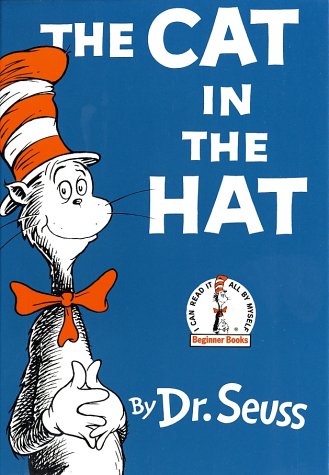 5. Dick and Jane books. Classic.
6. PJ Funnybunny books. I don't think there are too many of them but I got several for Landon recently and I really enjoyed reading them again.
And I'm sure there's more I am not thinking of right now.
What were YOUR favorite books as a kid?